Faces of the Battle: A Local Perspective
The Battle of Britain took place during the Second World War between 10 July and 31 October 1940. At the time, Germany - under the leadership of Adolf Hitler - was trying to invade Britain. The German Air Force - the Luftwaffe - had to gain air superiority over the Royal Air Force (RAF) before Germany could launch a full-scale invasion of Britain.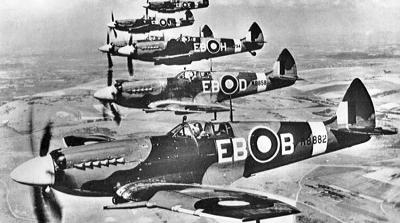 The battle was fought in the skies above Britain and 14 nations provided airmen to fight alongside the RAF. Airmen from 15 countries, including Poland, Australia, Czechoslovakia, Barbados, France and the United States, flew in the battle The contribution of Britain's allies was invaluable during the Battle of Britain - they provided 595 airmen (20% of the total: 2,937). In defending Britain from invasion, 544 airmen lost their lives.
Uxbridge had a vital role to play in the Battle of Britain. Unbeknown to local residents, as the air battle raged in the skies, deep underground a team of men and women were coordinating the response of fighter squadrons. The bunker contained the Operations Room of No. 11 Group (Fighter Command), which oversaw the defence of London and the South-East. As part of the Dowding System, the purpose of the bunker was to receive and display information about approaching enemy raids, coordinate fighter aircraft, organise ground-to-air defences and provide direction for the Observer Corps.
RAF Northolt, as a sector station, was part of this air defence system, as a number of squadrons were based there during the battle, including No. 1 Squadron (Royal Canadian Air Force) and the No.303 (Kościuszko) Squadron (Polish). Once the orders came from Uxbridge, they would scramble the squadrons, ready to defend.
Photos: Battle of Britain Monument website (bbm.org.uk)