Public computer access
Residents aged 18+ can now book and use a public computer in 1 of 7 Hillingdon libraries. Priority will be given to people without access to a computer at home.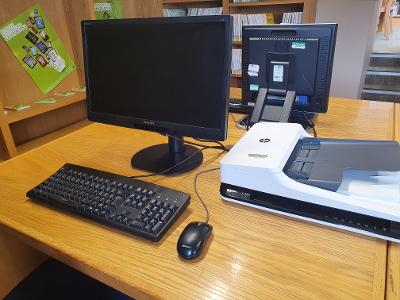 This service is available 10am to 2pm, Monday to Saturday, and computers will be available to book for one-off 45-minute sessions at 7 of our libraries - Botwell Green, Charville, Eastcote, Harefield, Northwood Hills, Ruislip Manor and Yiewsley.
Please note:
users will be limited to 1 session per day
users without library cards will be asked to provide their full name and contact details for tracing purposes
all computer bookings will start and end at the same time, allowing a 15-minute changeover where staff can clean keyboards, mice, worktops and screens before the next slot begins
to enable printing but avoid cash handling, residents are entitled to up to 5 print-outs on each session free of charge
other parts of the library, including the toilets, will not be available to access
Guidelines for all users
To ensure the safety of our staff and all users:
ensure you visit alone
use the hand sanitiser dispensers before and after your computer session
do not loiter or chat to staff or others after your session
we ask that you wear a face covering, for your safety and for the safety of others during your visit (for exemptions, please visit GOV.uk)
Book a session
Computer bookings can be made on the day by calling the nearest operating library to where you live between 10am and 4pm, Monday to Saturday.
Botwell Green Library

East Avenue, Hayes, UB3 2HW
01895 558633

Charville Library

Bury Avenue, Hayes, UB4 8LF
01895 558296

Eastcote Library

Field End Road, Eastcote, HA5 1RL
01895 558230

Harefield Library

Park Lane, Harefield, UB9 6BJ
01895 558184

Northwood Hills Library (Potter Street)

Potter Street, Northwood, HA6 1QQ
01895 556460

Ruislip Manor Library

Linden Avenue, Ruislip Manor, HA4 8TW
01895 556262

Yiewsley Library

High Street, Yiewsley, UB7 7BE
01895 558286
Page last updated: 29 Jul 2020