Hillingdon Council wins top award for children's services
Wednesday 3 July: Hillingdon Council has won the top award for innovation in children's services at the Municipal Journal (MJ) achievement awards.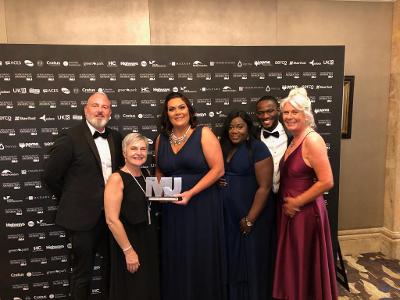 The awards event took place in central London on Wednesday 26 June.

The MJ is a leading information, intelligence and news resource for local authorities. It's prestigious annual awards event recognises the very best local government services, and is judged by influential commentators from the private and public sectors.

The council's AXIS project (so named because it supports young people at a crossroads in their lives) is making a real difference to children at risk of exploitation, and is fast becoming a beacon of good practice for local authorities and the police.

AXIS collates, organises and applies information in a way that helps to identify young people at risk of exploitation and informs meaningful interventions delivered by skilled practitioners. Data mapping is the 'engine' driving the AXIS programme, and is seen as the future of targeted intervention and joint commissioning to keep more children safe and free from statutory intervention.

Judges looked for councils that had developed partnerships with an integrated and joined-up approach, delivering forward-thinking services and demonstrable positive impact for local children, young people and families.

Cllr David Simmonds, Hillingdon Council's Cabinet Member for Education and Children's Services, said: "I'm delighted that the AXIS project has been recognised for tremendous benefits it delivers. We have long-since recognised that multi-agency working is the best way to safeguard our children and young people from exploitation of all types.

"It was the single minded dedication and commitment of managers and practitioners in our youth offending service that took it from being a good idea to being a powerful analytical tool for shaping interventions for vulnerable young people.

"Ultimately, this award recognises that vulnerable children and young people in Hillingdon are receiving the level of help and support they need and deserve."

The AXIS project represents a sea change for Hillingdon, specifically in terms of exploitation, as the council can now pinpoint where support is required much earlier and target its community safety and young people's services more effectively.
Page last updated: 20 Jan 2021