Residents encouraged to unleash their learning potential
Monday 6 January: Hillingdon Council is holding a series of open days at its adult learning centres this January to give residents thinking of learning something new or changing career the chance to see what courses are on offer.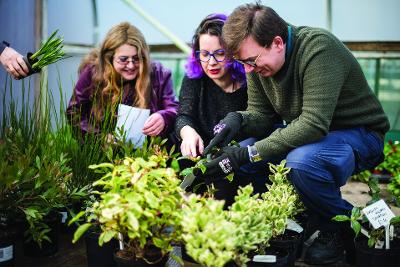 Employees from Hillingdon Adult and Community Learning (HACL) will be on hand to speak to residents about the variety of courses that they can sign up to, discuss enrolment requirements and provide support with skills tests to ensure learners study at the correct level.
HACL offers a range of subjects (more than 650 courses) including English, maths, English for speakers of other languages (ESOL), IT, horticulture and floristry, health and social care, childcare, community interpreting and sign language and so much more.
Open days will take place on the following dates and are free to attend on a first-come, first-served basis.
Thursday 9 January 2020 - Brookfield Adult Learning Centre (Park Road, Uxbridge, UB8 1NP) - 10am to 1pm and 6pm to 8pm
Friday 10 January 2020 - Harlington Adult Learning Centre (Pinkwell Lane, Hayes UB3 1PB) - 10am to 1pm
Saturday 11 January 2020 - Brookfield Adult Learning Centre - 10am to 2pm
Cllr David Simmonds, Hillingdon Council's Cabinet Member for Education and Children's Services, said: "We are committed to ensuring that residents have excellent learning opportunities through our wide range of courses for adults. Learning something new is a fantastic opportunity to gain a new set of skills, develop your interests and socialise so I encourage anyone considering studying to come along to one of the open days."
Nina Boxall from Ickenham was running her own lettings business, which was not satisfying, but she was volunteering at her children's school, which she was enjoying. She decided to change her career and sold her business. She met with her tutor and felt there was a genuine interest in ensuring she got onto the right course. Nina started on Supporting Teaching and Learning Level 2, which helped her build a solid foundation, and meant an easier transition to the next level.
Nina said: "I haven't been in education for 19 years. Initially I was daunted, but now wish I'd gone back into education much sooner because I'm really enjoying my journey.
"My tutor is great and I felt very comfortable during my first observation. I was really clear about what I needed to show my assessor and that's because of the guidance from my tutor.
"When you can help a child and they get it and you can see that they are achieving, you get a buzz out of it - you just want to do it again and again. I wake up every morning and I'm happy to be going to work at the school.
"Don't be afraid to change what you are doing and go for it because it will be worth it."
For more information about courses and to sign up, visit www.hillingdon.gov.uk/adult-courses
Page last updated: 12 Feb 2021