Hillingdon Council joins London-wide crackdown on engine idling drivers
Tuesday 4 February: Pupils at Whiteheath Junior School, Ruislip, joined Hillingdon Council at an idling action event on Wednesday 29 January, in an effort to urge drivers who leave their engines running whilst parked to turn them off under a new pan-London clampdown.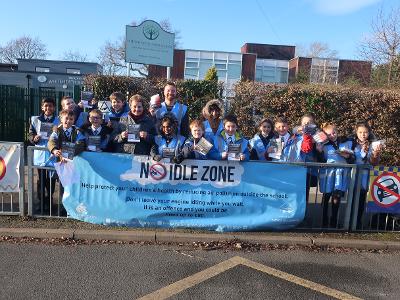 Motorists driving in Hillingdon already face a fine of up to £80 if they are caught by environmental officers leaving their engine running whilst parked for more than five minutes.
Councillor Jane Palmer, Hillingdon Council's Cabinet Member for Social Care, Health and Wellbeing; council officers and Idling Action Project members joined Year 5 pupils from the school as they spoke to drivers about the harmful effects caused by vehicle emissions - and asked them to turn their engines off. Drivers were given information leaflets to help them understand their role in helping to make London's air healthier.
The council has, alongside all London local authorities, joined the Idling Action Project, which is led by the City of London Corporation and Camden Council. The project aims to cut dangerous vehicle emissions.
Hillingdon has for two years adopted idling enforcement procedures and now other boroughs are being required to implement them if they have not already done so.
The project, which is funded by the Mayor of London's Air Quality Fund, will also see Hillingdon Council and the other boroughs run air pollution anti-idling workshops with schools, engage with businesses and residents, and deliver training to fleet managers about air pollution.
Councillor Palmer said: "Idling is bad for our health, harms the environment and is a waste of fuel, so I was pleased to see the pupils reinforce the message about the dangers and to get drivers to change their habits. Not idling helps reduce air pollution and will also stop drivers from receiving costly fines."
"Our participation in initiatives like the Idling Action Project, alongside our intentions for council services to be carbon neutral by 2030 and fighting Heathrow expansion, aim to make Hillingdon a cleaner and greener borough for all of our residents. We owe it to our children to take action now."
Deputy Mayor for Environment, Shirley Rodrigues, said: "Toxic air in London is a health emergency that requires bold action and the Mayor and I are determined to help every Londoner breathe cleaner air.
"The Mayor is proud to have funded this first ever city-wide initiative to stamp out engine idling on London's streets. In Hillingdon and across the capital, it will make a real difference cleaning up our polluted air."
Jeremy Simons, Chair of the City of London Corporation's Environmental Services Committee, said: "This project takes us one step closer to eliminating a completely unnecessary source of air pollution.
"By working together, the capital's local authorities are bringing down air pollution on our streets. Cleaning up toxic air is one of the most important priorities for the public health of Londoners.
"We are determined to see a major improvement in air quality, right across the capital. Together, we are taking bold and practical steps to combat air pollution at a local level."
Councillor Adam Harrison, Cabinet Member for a Sustainable Camden, said: "Engine idling represents an easily avoidable source of health-damaging air pollution which is often concentrated around our most vulnerable residents; at schools, hospitals and health centres.
"The London Idling Action Project will help us to reduce air pollution from engine idling, as well as engaging with our local communities and schools, and across London in the fight to improve air quality and protect health.
"Camden is determined to achieve the World Health Organization air quality standards and this behaviour change project plays an important part in this process, combined with our ongoing work to strengthen the enforcement regime for engine idling offences."
For more information about air quality and idling visit
www.hillingdon.gov.uk/airpollution and www.idlingaction.london
Page last updated: 12 Feb 2021