Residents encouraged to hold street parties to remember the end of World War Two
Thursday 20 February: The council is encouraging residents to mark the 75th anniversary of Victory in Europe Day (VE Day) and the end of the Second World War in Europe by holding a street party on Friday 8 May.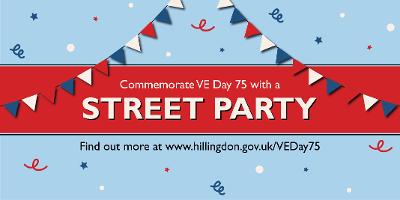 With this year's early May Bank Holiday moving from Monday 4 May to Friday 8 May, residents wanting to organise a street party can now apply to the council for free road closures, public notices, traffic management services and public liability insurance. Road closures will be considered for cul-de-sacs, crescents, quiet roads that are not 'through roads' and roads not on bus routes as these will not generally impact on traffic movement.
Online application forms and guidelines are available on www.hillingdon.gov.uk/VEDay75. The deadline for applications is Friday 3 April. If you would like to discuss any details before applying, please contact Lyn Summers, Project and Events Manager, by emailing streetparties@hillingdon.gov.uk or calling 01895 556640.
Leader of Hillingdon Council, Cllr Ray Puddifoot, said: "We offered a free street parties service to residents who wanted to celebrate the weddings of the Duke and Duchess of Sussex and the Duke and Duchess of Cambridge, the Queen's 90th birthday and the Diamond Jubilee. I hope we can encourage everyone who enjoyed them previously to get involved again and that it will also motivate others to join in and mark this very special occasion."
The council is also organising a programme of events across the borough, including a street party at Manor Farm on Friday 8 May. The day will feature live jazz, swing dancing, food stalls, crafts and a temporary display illustrating how Hillingdon celebrated VE Day 75 years ago. Families can learn more about what it was like to live in Hillingdon during wartime. For more information, visit discover.hillingdon.gov.uk/victoryineurope.
At the end of the war in 1945, residents in Hillingdon, like those in many other parts of the country, took to the streets to celebrate, throwing big potluck luncheons, playing music outside, and dancing in the streets. After years of city bombings, blackouts, and intense rationing, Britain was finally ready to celebrate.
Page last updated: 12 Feb 2021