Council launches Starborg card design competition
Thursday 12 March: Hillingdon Council is calling on residents of all ages with creative talents to design this year's Summer Reading Challenge Starborg cards.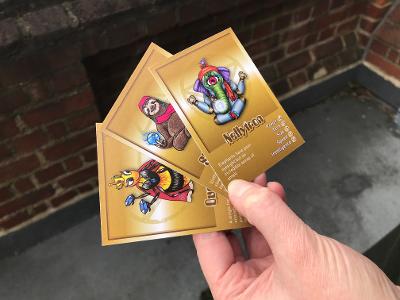 The Starborg cards, the council's answer to Top Trumps cards, feature a colourful array of animal characters and are a hugely popular reward for borrowing books. Each year, libraries give away thousands of these unique collectible items to children as part of the initiative.
The Summer Reading Challenge, run by The Reading Agency, aims to keep children reading throughout the school summer holidays and will start on Saturday 11 July. The theme for 2020 is 'Silly Squad' - a celebration of funny books, happiness and laughter.
Residents are being encouraged to design this year's Starborg cards, using the theme as inspiration. Participants are also being encouraged to look at last year's Starborgs for ideas at www.hillingdon.gov.uk/starborgs. All designs must fit the theme and appeal to children aged 4 to 11 years old.
As well as having their design on one of the cards, winners will be invited to attend a special event in July where they will have a sneak preview of all the designs before they are officially launched.
Cllr Richard Lewis, Hillingdon Council's Cabinet Member for Central Services, Culture and Heritage, said: "Last year's Summer Reading Challenge was more popular than ever in Hillingdon, with almost 11,000 children visiting our libraries to take part. We had a record number of children completing the challenge, ranking the council as the second highest for participation in London.
"We know our Starborgs cards are a big part of our success so this is a great way for our talented residents, of all ages, to use their creativity and participate in this year's competition."
Designs can be hand drawn or digital (JPEG and TIFF) and entries should be emailed to summerreadingchallenge@hillingdon.gov.uk by Friday 17 April. Winning entrants will be contacted after the competition has closed and will have their Starborg produced as part of the new pack of 20 cards.
Entrants should keep their original artwork because if they are successful the council may need to rescan or photograph these. All work should be the entrant's own. Winning entries may be subject to alterations to ensure they are of the required print quality.
Page last updated: 12 Feb 2021