Council and charities work together to support vulnerable residents
Monday 6 April: Vulnerable residents across Hillingdon have been receiving food deliveries and help with daily tasks, after the council joined forces with local charities to protect those most in need during the coronavirus outbreak.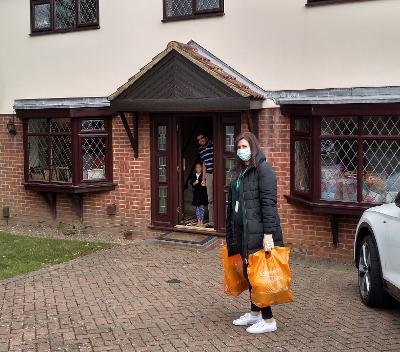 The council is working with H4All, a partnership of five leading local charities, to provide a community support service for local residents who are unable to leave the house because they're ill, caring for others or are self isolating due to COVID-19 and do not have a friend, neighbour or family member available to support them.
The service includes:
help with food shopping - for residents unable to find a neighbour, friend or family member who is available to shop for them, ensuring they get a food delivery.

emergency food parcels - a box of essential food items delivered by H4All to eligible residents.

prescriptions - help registering with local pharmacies and arranging for regular prescriptions to be delivered to residents' doors, ensuring they have a supply of essential medicines for themselves or the person they care for.

a regular telephone call - for those feeling lonely and isolated or struggling with their emotions during this time, with calls made as frequently as needed.

information and advice - skilled advice via the telephone to support residents through the complexities of the welfare benefits system, for those who are eligible to claim, and any other questions they may have.

dog walking and posting mail - for residents who need someone to walk their dog or post letters.
Effort will also be made to accommodate residents who are on a special diet for medical reasons or need essential equipment or other support.
With the exception of food shopping, which will be arranged individually, the service is free.
Cllr Ray Puddifoot, Leader of Hillingdon Council, said: "We understand that many residents are concerned about the outbreak and worried about vulnerable members of the community. This vital service will provide peace of mind for everyone, ensuring that those who are the most at risk are protected.
"We will continue to prioritise frontline services and take all appropriate measures to support residents and businesses during this difficult time.
"I would like to thank everyone in the borough who is working so hard to maintain essential services."
Sally Chandler, Chief Executive of Hillingdon Carers, speaking on behalf of H4All, said: "As a group of charities we are working closely together and with the many other charities in Hillingdon to ensure that the needs of residents are met and that we respond promptly to the most vulnerable in our communities.
"The council is helping financially and with human resources - council employees are helping to process the large volume of volunteers that are coming forward, keen to do their bit, and are managing the shopping service for housebound residents.
"It is a strong partnership and one which will ensure that we can support residents through the next few weeks."
Residents who aren't already aware of the service but would like to use it, are asked to email COVID19Hub@hillingdon.gov.uk or call 020 3949 5786 from 8am to 5.30pm, Monday to Friday (10am to 2pm weekends and bank holidays).
Anyone wishing to volunteer to help the community and deliver support to Hillingdon's most vulnerable residents is asked to fill in an online form at www.hillingdon.gov.uk/community-support.
For more information and advice visit www.hillingdon.gov.uk/coronavirus
Page last updated: 12 Feb 2021