Hundreds of Hillingdon residents supported by council and charity-led community hub
Thursday 30 April: The council's community hub has helped hundreds of residents receive food deliveries and a range of other services since it was created last month in response to the coronavirus pandemic.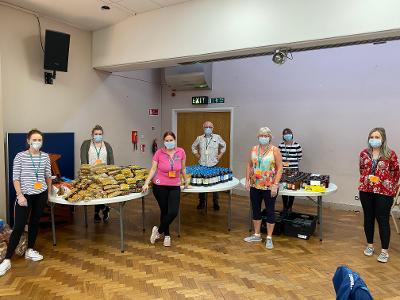 The council is working with H4All, a partnership of five leading local charities, to provide a community support service for local residents who are unable to leave the house because they're ill, caring for others or are self isolating due to coronavirus and do not have a friend, neighbour or family member available to support them.
Available support includes:
help with food shopping
emergency food parcels - a box of essential food items delivered to eligible residents
prescriptions - help registering with local pharmacies and arranging for regular prescriptions to be delivered to residents' doors, ensuring they have a supply of essential medicines for themselves or the person they care for
a regular telephone call - for those feeling lonely and isolated or struggling with their emotions during this time, with calls made as frequently as needed
information and advice - skilled advice via the telephone to support residents through the complexities of the welfare benefits system, for those who are eligible to claim and to answer questions on this
dog walking and posting mail
Mahendra Patel, 84, and his wife Sarla, 82, are self isolating at their home in Hayes. Mahendra found out about the service after calling the council with an enquiry.
He said: "We asked if there were any other coronavirus services for elderly people - I have a heart condition and my wife is diabetic and has had knee operations - and the person we spoke to was really helpful and told us about the community hub. We are just using the shopping delivery and it is five star with a diamond!
"We are deeply touched by this support and we would like to thank the council and H4All as this is a boost to our morale and confidence. Staying in is not for a lifetime and we are managing it nicely and peacefully with this support."
Rachael Shailes says a challenging situation has been made easier by the lifeline she is receiving from the council and H4All. She is currently self isolating at her home in Uxbridge with her 15-year-old son who is shielding, and her younger daughter.
She said: "Harvey is shielding as he is high risk and vulnerable. He has had juvenile arthritis since he was four, which requires regular chemotherapy infusions, and he also has a heart condition. He is a keen footballer with Harefield, and tries to keep active, but as he is not able to go outside, he jogs in the garden. He has been home for weeks, apart from going to the hospital for his treatments. A flare up could affect him badly and then he would have to go to A&E.
"I'm a childminder, but because of the current situation I am unable to work. We had just had a delivery of food cancelled when I was called about the emergency food parcels.
"They said they would like to offer me groceries and I asked 'how much do I have to pay?' They just said that it was free because of our situation! I was able to order 15/20 of the essentials like milk, bread and eggs. They dropped off my delivery on the doorstep. They were really good and the person wore gloves and a mask. I was really chuffed as we had just got back from the hospital.
"I'm just a mother trying to protect her child and this service is helping me keep him safe."
Council staff, charities and volunteers are working within social distancing guidelines to put together emergency food parcels, which are then delivered by council employees. Each day, the service delivers dozens of free parcels containing essential grocery items, such as milk, bread and pasta.
It is also able to deliver daily 30 prescriptions and carry out 50 paid-for food shopping deliveries.
Cllr Ray Puddifoot, Leader of Hillingdon Council, said: "These services are providing an invaluable lifeline to those who are unable to go out, even for general necessities. It is giving them peace of mind and ensuring that they are protected.
"The service has been a co-ordinated effort, and I would like to thank all those who are volunteering.
"We will continue to prioritise frontline services and take all appropriate measures to support residents and businesses during this difficult time."
Sally Chandler, Chief Executive of Hillingdon Carers, speaking on behalf of H4All, said: "The combined Covid-19 support programme between the council and H4All is now well-established.
"We have established ways of working that mean we can quickly deliver requests for shopping, prescription collections, emergency food parcels and our growing care-calling service.
Residents who aren't already aware of the service but would like to use it, are asked to email COVID19Hub@hillingdon.gov.uk or call 020 3949 5786.
Anyone wishing to volunteer to help the community is asked to fill in an online form at www.hillingdon.gov.uk/community-support.
For more information and advice visit www.hillingdon.gov.uk/coronavirus
Page last updated: 24 May 2021