Council rises to coronavirus challenge
Thursday 21 May: Hillingdon Council has increased its use of technology and found new ways of working to keep all essential services running during the coronavirus pandemic, the council's Cabinet heard at their first virtual meeting tonight.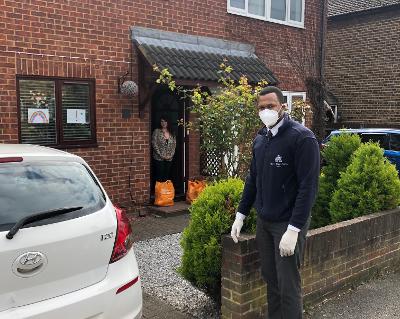 A special report, heard by Cabinet councillors, outlined the extensive effort by the council to support local residents and businesses since the outbreak of COVID-19.
All of the council's award-winning parks and green spaces have remained open, allowing residents to exercise outdoors while adhering to social distancing guidance.
Weekly waste and recycling services have also been maintained, with collection teams changing the way they work to remain safe. They collected a record 2,278 tonnes of green waste in April.
New services, including a community support hub, have been created to support residents most at risk, particularly those being 'shielded' following NHS advice due to underlying health conditions.
The hub, run by the council with some assistance from local charity organisation H4All, fielded 5,314 calls between 30 March and 6 May alone, and handled 1,213 requests for services including bespoke food shopping, emergency food parcels and medicine deliveries. By 6 May, more than 7,700 'shielded' residents had been contacted by the hub and social services.
In addition, officers contacted 414 residents who were previously registered to attend tea dances, exercise sessions, walks and dementia coffee mornings to check on their welfare.
The response has seen officers redeployed from across the council to help the hub with welfare calls and food and medicine deliveries.
The council has also used its popular digital platforms to provide key advice for residents and businesses, with a new coronavirus section of the council's website receiving a total of 91,382 hits between 23 March and 1 May.
Housing teams have been working with the Ministry of Communities, Housing and Local Government and local partners to find homes for the borough's rough sleepers, and the council has been prioritising new domestic abuse cases.
With employee safety also a priority, the council has overseen the distribution of more than 600,000 protective gloves, masks, aprons, eye protectors and hand sanitizers to providers of social care services, and it has joined a new London-wide procurement scheme to provide more than 48 million items of protective equipment for frontline workers over three months.
The council has also helped residents and businesses access financial support. An average of 237 Universal Credit verification requests were handled each week during April, and by the end of that month more than £30 million in government grants had been issued to around 2,100 local businesses, with approximately £70 million more set to be allocated as part of an extended business rates relief scheme.
Residents and key workers have also benefited from a suspension of parking charges and time limits in council car parks and pay and display bays, as well as free emergency parking permits in residential areas.
The council also mobilised employees to support the administration of a temporary mortuary at Breakspear Crematorium as part of the pan-London response to the virus.
Other council services have carried on as normal wherever possible, while operating within government guidelines:
Street cleansing teams have continued to keep the borough's roads, pavements and town centres clean
Essential highway and street lighting works continue to go ahead
Daily patrols by anti-social behaviour officers have continued
More than 300 officer-delegated planning decisions have been made
During April, up to 100 essential repairs a day were carried out for council tenants
The council continues to support schools, child care providers and other educational settings to remain open for vulnerable children and children of critical workers.
The council has harnessed online technology to transform the delivery of other services:
Some consultations with residents, including those receiving children and adult social care support, have been taking place on the phone or online
Libraries have offered online membership and access to a raft of virtual resources, with a 67 percent increase in the use of non-fiction e-books during April
A WhatsApp singing group has been set up for residents living with dementia and their carers
Emergency and essential decision-making by the Leader and Cabinet has continued digitally. And in a UK first, a virtual planning committee was streamed live on YouTube with Google Meet on 7 May, followed by Councillor Teji Barnes' election as the new Mayor of Hillingdon at a virtual Annual Council meeting on 14 May.
This year's Hillingdon in Bloom competition will be judged remotely
The council's flagship Rural Activities Garden Centre has set up a delivery service where residents can order compost and plants and pay over the phone, with 380 orders completed by the beginning of May
85 percent of adult learning qualification courses have now been adapted to run online, with 78 courses and 754 resident enrolments
The council's Dancing in the Streets Exhibition, originally researched as a touring exhibition, was launched online to help mark VE Day 75
By the end of April, more than 400 hundred children had entered a road safety competition to design their dream bike
Cllr Ray Puddifoot, Leader of Hillingdon Council, said: "At this time of national emergency, we have continued to put our residents first by ensuring the delivery of key services.
"The local response has been unparalleled, with a range of new services created from scratch or adapted to meet the needs of residents and businesses.
"I would like to thank employees right across the council, many of whom are currently working remotely, and our community partners for their tremendous drive and energy in rising to this unprecedented challenge.
"I have no doubt that we will continue to adapt as we move to safely reopen some of our services. In the meantime, I would also like to thank residents for the many words of appreciation we have received."
For the full Cabinet report visit https://modgov.hillingdon.gov.uk/ieListDocuments.aspx?MId=3483&x=1&
Page last updated: 12 Feb 2021