Help for businesses to reopen safely and stay open
By following the government guidance outlined below, we can help reduce the spread of coronavirus and improve the likelihood of businesses like yours to remain open.
Failure to comply with the new rules and regulations could negatively impact your business, undo local and national efforts to prevent outbreaks and you could also face a fine or legal notice.
---
In this section
---
Rule of 6
Hospitality venues in England are legally required to enforce the rule of 6 or face a fine of up to £4,000.
Businesses must take bookings of no more than 6 people, ensure people are not meeting in groups of more than 6 people on their premises, and make sure there is sufficient space between tables.
Read the guidance on meeting with others safely
---
Face coverings
Staff in shops and hospitality premises are now required to wear face coverings.
---
Collection of customers' contact details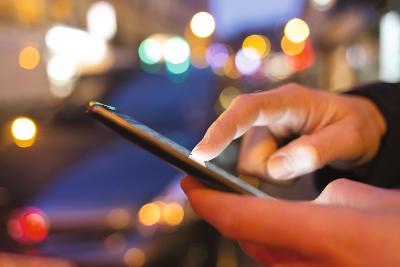 To support NHS Test and Trace, it is mandatory for all hospitality premises, close contact services and leisure venues to display an official NHS QR code poster to make it easier for people to check-in.
Venues that fail to comply with this new legislation may face fines of up to £1,000 (and up to £4,000 for repeat offenders).
Businesses will be expected to make sure their customers are aware of the rules around QR codes by displaying posters and speaking with customers directly.
Read the government guidance on the new legal requirements.
In instances where a customer is unable to scan your businesses QR code poster, you must collect the following contact details for that individual:
full name
telephone number
where a telephone number cannot be provided, an email or postal address must be provided instead
date and time of entry and exit
the number of people in their group
Where an individual has not scanned the QR code displayed or provided their contact details, all reasonable steps must be taken to prevent their entry.
Test and Trace data should be stored securely for 21 days and then destroyed. 
Create a coronavirus NHS QR code for your venue
Read FAQs about the NHS COVID-19 app
For information and resources on the NHS COVID-19 app in other languages, visit the NHS information and resources web page.
---
Businesses selling food and drink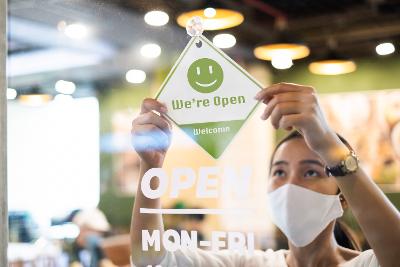 Businesses selling food or drink, social clubs, casinos, bowling alleys, amusement arcades, funfairs, theme parks, adventure parks and activities, and bingo halls, must be closed between 10pm and 5am.
Exemptions to these closures include delivery services, which can continue to operate after 10pm, and also cinemas and theatres where performances conclude after 10pm.
There are no changes to opening times for shops, supermarkets, pharmacies and service stations.
Pubs, bars, cafes and restaurants must operate on a table-service-only basis and premises managers will be expected to take all reasonable steps to ensure that customers remain seated whilst consuming their food and/or drink.
Sector guidance has been provided to help employers, employees and the self-employed understand how to work safely in the food sector and these should be read in conjunction with the government guidance.
---
Pubs, bars and restaurants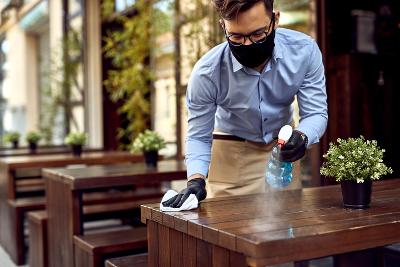 Many pubs, bars and restaurants have now reopened and we continue to offer the following support services to those that are reopening for the first time:
assistance with tables and chairs licence applications
advice on the latest licensing relaxations for off-sales
support and templates for your COVID Secure Workplace Risk Assessments
guidance for food, licensed and hospitality premises
If you are a hospitality business operator and would like advice on social distancing, health and safety, food safety or licensing, email businesssocialdistancing@hillingdon.gov.uk or call 01895 277433.
For information about working safely during coronavirus, read government guidance for restaurants, pubs, bars, cafes and takeaways.
---
Close contact services
If you are preparing to reopen your beauty treatment business, you must ensure that you have prepared a 'COVID Secure' risk assessment and that you have the correct licences in place in order to operate.
For further advice from our team, please email businesssocialdistancing@hillingdon.gov.uk or read the guidance on the government website.
---
Risk assessment
As an employer, you are required by law to protect your employees, and others, from harm. The minimum you must do is:
identify what work activity or situations might cause injury or illness, including transmission of the virus
think about who could be at risk
decide how likely it is that someone could be exposed
act to remove the activity or situation - or, if this isn't possible, control the risk
You should assess risks related to COVID-19 as part of an overall risk assessment review for all your activities in the workplace. For most small, low-risk businesses, the steps you need to take are straightforward - much of what you need to know is on the HSE website.
You need to identify sensible measures to control risks. You can use

our shop risk assessment checklist [685KB] to help assist you in the development and implementation of your risk assessment of COVID-19. If you operate a pub, bar, club or restaurant you can use our

risk assessment checklist for restaurants, pubs, bars and takeaways [244KB] .
---
Preventing Legionella
Local businesses are reminded to test their water systems and ensure they are preventing Legionella bacteria before reopening.

Read our guidance document [26KB]
---
Early outbreak management
If you are a manager or owner of a business, you should be prepared and know how to respond to an outbreak of coronavirus.
An outbreak is normally 2 or more confirmed or suspected cases of COVID-19 (within 14 days) among workers within a workplace.
You should report the outbreak to the health protection team.
Find contact details for your local health protection team
Individual action cards, which provide specific COVID-19 early outbreak management information for your situation, are available to print or download and keep to hand in your business or organisation.
Download the guidance on early outbreak management
---
Practical help and guidance on workplace safety
Page last updated: 30 Sep 2020