Thousands of counterfeit goods seized in day of action
Monday 12 October: Hillingdon Council cracked down on the sale of counterfeit goods in a day of action held on Tuesday 29 September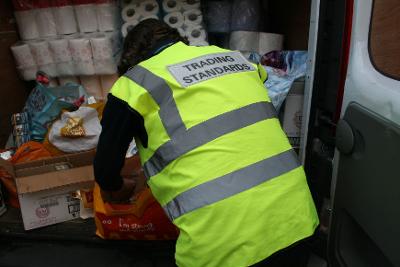 During the operation, led by officers from the council's trading standards team, more than 10,000 illicit tobacco products were seized, along with other items such as fake Viagra, Nitrous Oxide (laughing gas - which is illegal) and counterfeit 1st class stamps.
Ten off-licences across the borough were visited by trading standards officers following reports of suspected trading of counterfeit goods. Seizures of illegal products were made from six premises. Items seized included a total of 10,500 cigarettes, 5,470g hand rolling tobacco and 6,627g of smokeless tobacco products.

Cllr Douglas Mills, Hillingdon Council's Cabinet Member for Community, Commerce and Regeneration, said: "While the majority of our businesses in Hillingdon operate legitimately, there are unfortunately a minority who think they are above the law, potentially putting unsuspecting customers at risk.

"It's the job of our trading standards team to protect the public from these unscrupulous traders, who put money before the safety of consumers. This day of action has seen potentially dangerous and counterfeit goods taken off our high streets, and further action will follow. We won't hesitate to do the same to anyone else operating like this."
Page last updated: 12 Feb 2021