Hillingdon extends record as borough with most Green Flag parks in the UK
Wednesday 14 October: The west London borough of Hillingdon has been awarded 60 Green Flag awards for its parks and green spaces - the highest number of any local authority in the country for the eighth year running.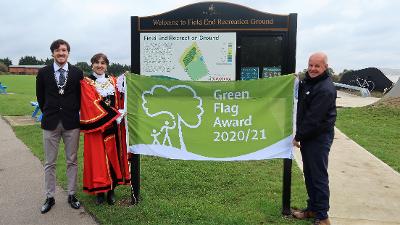 The borough's total number of flags has risen from last year's tally of 55. Fairway Recreation Ground, Stonefield Park, Field End Recreation Ground, Highgrove Woods and Hale Field Park all received awards for the first time.
Fairway Recreation Ground is well used by residents, with a large open space and children's play area. The council recently added a seasonal wildflower display to help enhance biodiversity and make the park even more attractive.

Stonefield Park has benefitted from various enhancements over recent years. The council has installed an assortment of children's play equipment and outdoor gym facilities, encouraging residents to enjoy the open space and reap the benefits of exercise.

The council has also made a number of ecological and recreational improvements in Field End Recreation Ground, with recent additions including a new skate park and 5,000 new trees to benefit the environment and counter the damaging effects of climate change.

Hale Field Park opened to the public in summer 2019. As part of a planning agreement for a Stockley Park development, the previously derelict land was regenerated by Prologis and handed back to the council as public amenity space. In collaboration with the council, Prologis created a series of green areas linked by a network of footpaths.

Highgrove Woods, once part of the larger Highgrove estate, is a blend of native and cultivated flora. It consists of a woodland area, grassland, and ponds, and is a good example of urban nature conservation. It makes the perfect location for family picnics, dog walking and general relaxation.

The annual Green Flag Award scheme, run by Keep Britain Tidy, recognises well-managed green spaces and is considered the benchmark national standard for public parks. Each space must meet stringent criteria, proving that they are clean, community-oriented and environmentally friendly.

Cllr Jonathan Bianco, Hillingdon Council's Cabinet Member for Finance, Property and Business Services, said: "This is fantastic news and we are absolutely thrilled. Green Flags are the highest honour awarded to parks or green spaces and we are delighted to have received a further five flags this year.

"We prioritise investment in our parks, and this year's success reflects our ongoing commitment. We have more than 200 green spaces across the borough for our residents and visitors to enjoy and they bring huge physical and mental health benefits. During lockdown in particular they were vital, especially for residents without gardens.

"Community groups, volunteers and council staff work incredibly hard to keep the borough looking so welcoming and attractive. These awards are a fitting recognition of their contributions."

The Green Flag Awards are judged by a group of environmental charities including Keep Britain Tidy.

Fifty-nine of the borough's 60 Green Flag parks and green spaces are maintained by Hillingdon Council.
Page last updated: 12 Feb 2021