Council partners with experts to transform passenger transport services and lives
Wednesday 4 November: An independent travel training service introduced by Hillingdon Council in partnership with passenger transport experts has been credited with changing the lives of young people in Hillingdon.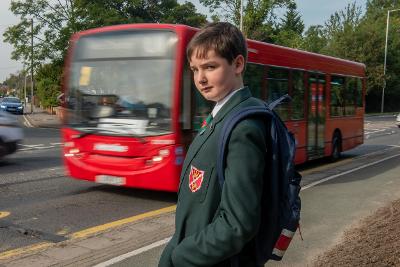 Sean McDonald, now aged 13, was diagnosed with a brain tumour at the age of four and has scoliosis, which requires regular surgical interventions. He wanted to be treated as an individual and not as someone with a disability, and his father Albert wanted to prepare him for a new life in high school and boost his self-confidence.
The council identified the need to provide bespoke, structured, one-to-one travel training for Sean and other young people, and decided to work with specialists at Edge Public Solutions to help manage the programme.
Sean's training, which involved learning how to make a journey from home to school independently over four weeks, has had far-reaching consequences for him, and he is now enjoying travelling unaccompanied since starting his second year at Vyners School in Ickenham.
His training was a five-stage process, starting with understanding what he needed, developing his travel routes, then walking him safely from home to the bus stop, learning the highway code, and preparing him for typical scenarios he might expect to encounter on the bus.
Over the period, assessors gradually accompanied him less and less until eventually he did the routes all by himself - fully independent.
Sean said: "I have the courage to take on anything in life now."
Hillingdon's Passenger Transport Service looks after 844 children and 70 vulnerable adults on 231 separate routes across the borough, using 33 council-owned vehicles. The service also provides 72 parents or carers with the funds, a personal travel budget, to organise their own transport arrangements. The council's travel training team helped many more young people like Sean to become independent last year.
Cllr Jane Palmer, Hillingdon Council's Cabinet Member for Social Care, Health and Wellbeing, said: "With specialist management oversight and leadership skills provided by Edge, our staff are able to give residents like Sean the confidence to travel on their own, with all the benefits that brings him personally. We will continue to prioritise independent and inclusive transport services, with travel training as one of our core offers."
The Passenger Transport Service also works with Transport for London, the Metropolitan Police and local schools to deliver classroom training on travelling on public transport.
Page last updated: 12 Feb 2021