Cllr Neil Fyfe (1946 to 2020)
We were very saddened to hear the news that Cllr Neil Fyfe, ward councillor for Charville, has passed away. Our thoughts are with his wife Anna.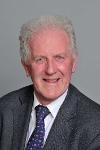 An elected ward councillor since May 2010 and a long-standing Charville resident, Cllr Fyfe served the community as a council 'street champion' by reporting concerns of residents and working to resolve them.
He listened to residents' ideas and suggestions during his popular ward surgeries, and lobbied for local improvements, including library refurbishments, road resurfacing and high street upgrades. He also served on the council's Planning Committee.
Cllr Fyfe was an active member of the Church of St Nicholas and was well known in the local community for his kindness. A keen allotment gardener, he regularly entered the council's Autumn Show with his wife Anna, displaying their award-winning homegrown fruit and vegetables.
Cllr Neil Fyfe
(December 1946 to November 2020)
Page last updated: 09 Feb 2022