New exhibition in Uxbridge Library explores origins of 'remembrance'
Tuesday 2 November 2021: A poignant new exhibition opens in Uxbridge this month exploring the tradition of remembrance and its origins following the First World War.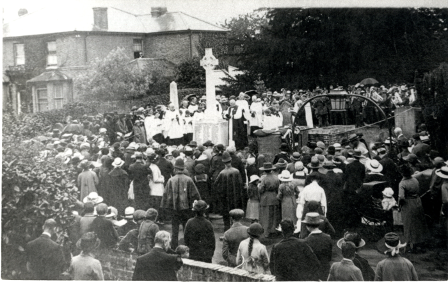 'Remembrance' will be on display in the Atrium of Uxbridge Library from Friday 5 November until Thursday 2 December.
The unique exhibition has been curated by Hillingdon Council and launched to coincide with the 100th anniversary of the Royal British Legion's popular commemorative poppy campaign.
Covering several different themes, displayed across 10 pull-up banners and using a variety of artefacts and photographs, the exhibition explores the origins of remembrance as a cultural and social phenomena, how it has grown in popularity, the different ways in which events of remembrance are marked and how these themes are reflected in Hillingdon.
The exhibition looks at how the poppy came to be an enduring national symbol for remembrance, and the also different people being remembered, including those civilians and conscientious objectors not actively involved in conflicts as well as those fighting from overseas nations.
It explores the variety of memorials and how creating them was not always straightforward for some communities and also how different people reacted to acts of remembrance.
Cllr Susan O'Brien, Hillingdon Council's Cabinet Member for Families, Education and Wellbeing, said: "This fascinating exhibition uncovers the stories behind acts of remembrance that many of us have observed or been part of perhaps without knowing much about the origins.
"Visitors are sure to uncover something new and the exhibition is free to visit, so please come down."
'Remembrance' will be on display in the atrium of Uxbridge Library during opening hours.
For more historic information and stories on the borough's heritage, visit www.hillingdon.gov.uk/history.
Page last updated: 25 Jul 2023