Reopening businesses safely - let's keep life moving
Information and guidance for business owners.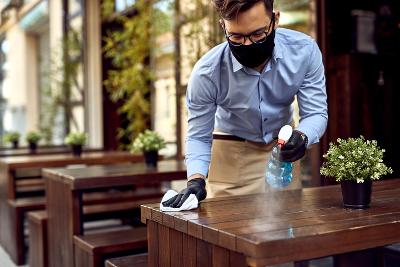 In Step 4 of the government's roadmap, COVID-19 restrictions have been lifted. However, in line with current government guidance there are important reasons why you should still consider keeping a number of controls in place. These controls are important in helping to keep our communities safe and, as we begin to emerge from the restrictions, we need to maintain control to prevent the effect of current and future diseases.
Whilst restrictions have been relaxed, you still have a duty under health and safety law to keep your employees and customers safe and to carry out a risk assessment. When considering your own relaxation of controls, you need to ask yourself if this could increase the risk of transmission within your business. You need to give assurance to staff and customers that you are operating your business safely, and failure to secure this could mean staff illness, increased isolations and possibly closure/disruption of operations.
Some of the factors you will need to take into account when prioritising controls are listed below and are particularly relevant while we have high infection rates in our communities.
Steps businesses can take to protect staff and customers during coronavirus
Complete a health and safety risk assessment that includes the risk from COVID-19
Use your risk assessment to see if the control measures are working and balance any reduction in measures against the increased risk of infection occurring. When assessing the risks, consider the pattern of local infection rates, vulnerability of persons employed or using your facility, effectiveness of ventilation, space requirements, the likelihood of any close staff/customer interaction, the presence of any vulnerable customers or staff, any testing/vaccination policies you have in place etc. In addition, the risk assessment should be shared with all staff and kept up to date. 
Provide adequate ventilation
Businesses should make sure there is a supply of fresh air to indoor spaces where there are people present. This can be natural ventilation through opening windows, doors and vents, mechanical ventilation using fans and ducts, or a combination of both. Businesses should identify any poorly ventilated spaces at the premises and take steps to improve fresh air flow in these areas.  Avoid recirculating air - avoid using ventilation systems that only recycle used air. Make sure that fresh air is introduced to all spaces. Turn fresh air intakes on mechanical ventilation systems on to maximum.
Clean more often
It is especially important to clean surfaces that people touch a lot. Businesses should ask staff and customers to use hand sanitiser and to clean their hands frequently.
Turn away people with COVID-19 symptoms
Staff members or customers should self-isolate if they or someone in their household has a persistent cough, a high temperature or has lost their sense of taste or smell. They must also self-isolate if they or a close contact has had a positive COVID-19 if not exempted, or if they have been told to self-isolate by NHS Test and Trace. If a worker is self-isolating, Management must not allow them to come to work. 
Enable people to check in at the venue
Businesses are no longer legally required to collect customer contact details but doing so will support NHS Test and Trace to contact those who may have been exposed to COVID-19 so that they can book a test. Businesses can enable people to check in at their venue by displaying an NHS QR code poster. Businesses do not have to ask people to check in or turn people away if they refuse. If businesses choose to display a QR code, then there should also be a system in place to record contact details for people who want to check in but do not have the app.
Communicate and train
Businesses should keep all workers, contractors and visitors up to date on how they are using and updating safety measures.

Please note: The guidance does not supersede businesses' existing legal obligations relating to health and safety, entertainment licensing and regulations, employment and equalities duties. It is important that businesses continue to comply with their existing obligations. 
Testing 
Encouraging twice weekly lateral flow tests amongst staff.
Prevent overcrowding and consider ways to encourage social distancing
Whilst you may be considering increasing the numbers of customers and staff, it is a good idea to restrict numbers/set maximum capacities in certain situations, particularly where there are confined spaces with limited ventilation.
Face coverings
While not a legal requirement, face coverings are still a recommendation where there is a likelihood of close contact, particularly if staff may be in close contact with customers. This may still be relevant in close contact services, hospitality venues and nightclubs.
How maintaining control benefits your business
Forms the basis of your Business Continuity Plan: Keeping the business open and profitable.
Ensures your local communities are protected now and in the future.
Boosts consumer confidence: Enhances business reputation as a 'safe' business to visit.
Reduces the risk of transmissible disease and, therefore, protect staff, customers and your business. This is very important, as infections are still relatively high, which increases the likelihood of being infected.
Gives staff and customers confidence to interact with each other safely.
Supports employee wellness and mental health.
Reduces staff sickness and increases staff retention.
Government guidance for difference types of businesses
Page last updated: 26 Jul 2021