Jogging
Jogging is a great way to explore your local surroundings, meet new people and keep active.
Jog if off!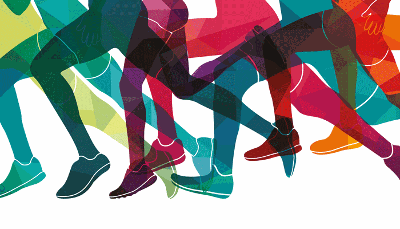 Our adult jogging/walking sessions are led by experienced runners who are trained to lead groups and are open to adults (aged 18+). Those who wish to take their training to the next level will also have an opportunity to join a competitive club.
On your first session, you will be asked to complete a short form for medical and monitoring purposes.
Please note: To help keep our residents safe and in line with government advice on the coronavirus, these sessions are currently not running.
Run England 321 routes
Get more active by walking, jogging or running at a time convenient to you with Run England 321's fun and challenging routes across the country.

There are 3 loops in Hillingdon, which you can try.
Hillingdon House Farm, Hillingdon Athletics Stadium, Gatting Way, UB8 1ES
A jogging circuit divided into 3, 2 and 1km sections.

Download the Hillingdon House loop [1MB]
Ruislip Lido, Reservoir Road, Ruislip, HA4 7TY
A jogging circuit divided into 2.5km, 2km and 1km sections.

Download the Ruislip Lido loop [834KB]
Stockley Park, UB8 3LL (just off the Colham roundabout)
A dual jogging circuit divided into a single 1km and 2.2km loop and 2km and 1km sections.

Download the Stockley Park loop [856KB]
Page last updated: 28 Apr 2021