Home and mobile libraries
Mobile library
We are pleased to introduce a reserve and collect service through our mobile library service from Tuesday 30 June. To help keep residents and our staff safe, new health and safety measures will be in place.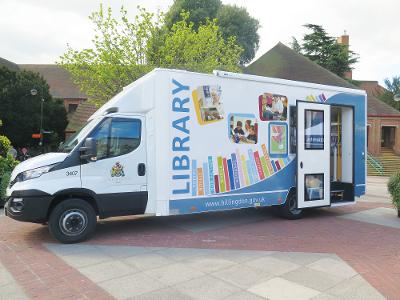 Our mobile library offers a valuable service, particularly to residents who cannot visit their local library.
Access a range of books in ordinary and large print, talking books on CD, children's books, free wifi and even hearing aid batteries with this service, which visits roadside sites, schools, nurseries, day centres, residential and sheltered homes.
Reserve and collect service
The service will be available from Tuesday 30 June, and library members will be able to collect items that they have reserved for themselves or anyone living in the same household and on behalf of neighbours/relatives who have reserved items. Hearing aid batteries will also be available to pick up.
Please note: Our timetables (below) are subject to changed and will be reviewed at the end of July.
When collecting an item, please bring with you your own bag for our staff to place the items in, wear a face covering and follow guidance from our mobile library manager.
To reserve an item, visit the online catalogue at any time. Please visit our stops at least 10 minutes before our departure time, so that we can serve our next stop without delay.
Alternatively, call us on 01895 556446.
Can't decide what you'd like to read?
Call 01895 250600 to request a 'lucky dip' and our library team will choose items on your behalf, based on a reader's age and interest.
Returning books
Items can be borrowed for up to 6 weeks without incurring a fine.
Tuesdays (30 June to 28 July) - sheltered homes and day centres timetable
Please note: Our mobile library will park either in the car park of the premises or near the main entrance.
Time
30 June and 21 July
Tuesday 7 July
Tuesday 14 July
10am to 10.50am

Langworth Drive
25-47 Langworth Drive
Yeading
UB4 0TE

Missouri Court
Bridle Road
Eastcote
HA5 2TH

Sibling Court
New Road
Hayes End
UB8 3DY

11.20am to 12.10pm
Grassy Meadow
Uxbridge Road
Hayes
UB3 2UF
EDR Day Centre
269 Field End Road
Eastcote
HA4 9XA

Manor House
Kelf Grove
Hayes
UB3 2PY

2pm to 2.50pm
Westcombe Lodge
Westcombe Lodge Drive
Hayes
UB4 8HQ
Sherleys and Masters Court
Wood Lane
Ruislip Manor
HA4 6JA

James House
Sandy Lodge Way
Northwood
HA6 2AJ

3.20pm to 4.10pm
Cobden Court
Cobden Close
Uxbridge
UB8 2YJ
Laburnum Court
Pages Lane
Uxbridge
UB8 1FQ

Wallis House
Cottage Close
Ruislip
HA4 7JA

Wednesdays in July - roadside
| Time | Road name |
| --- | --- |
| 9.30am to 10.15am | Harlington Library, UB3 1PB |
| 10.40am to 11.20am | St Peter's Way, UB3 5AB |
| 11.45am to 12.30pm | Harmondsworth Square, UB7 0AQ |
| 2.10pm to 3pm | Bath Road (Longford Village), UB7 0ED |
| 3.15pm to 4pm | Eton Road, UB3 5HS |
| 4.15pm to 4.45pm | Rowan Road (near Longmead School), UB7 7TU |

Thursdays in July - roadside
| Time | Road name |
| --- | --- |
| 9.30am to 10.15am | Harefield Library, UB9 6BJ |
| 10.30am to 11.10am | Stafford Road (near Bromley and Trevor Crescent), HA4 6PF |
| 11.20am to midday | Glebe Avenue, HA4 6QZ |
| 1.45pm to 2.45pm | Botwell Green Library, UB3 2HW |
| 3.05pm to 3.50pm | Delemere Road (near Berwick Avenue), UB4 0NL |
| 4.10pm to 4.40pm | Cygnet Way (near Curlew Way), UB4 9UL |

Fridays in July - roadside
Please note: Our mobile library will be closed on Friday 31 July.
| Time | Road name |
| --- | --- |
| 9.30am to 9.45am | St Vincent's Nursery, HA5 2LX (Book drop only) |
| 10am to 10.45am | Eastcote Library area, HA5 1RL |
| 11.15am to midday | Welbeck Avenue, UB4 9EY |
| 12.15pm to 1pm | Yeading Library area, UB4 0EW |
| 2.40pm to 3.30pm | Chitterfield Gate (near Sipson Road), UB7 0JR |
| 3.50pm to 4.30pm | Clammas Way (near St Laurence School), UB8 3AN |
If you would like more information about this service, please mobile-library@hillingdon.gov.uk or call 01895 556446.
Page last updated: 25 Jun 2020