My Family in Harlington
A family tribute by Shafiq Zeshan Mirza.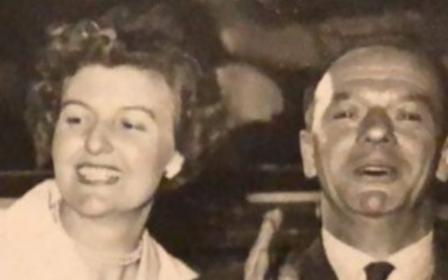 "Benjamin George Collier, my Grandad, was born in Marylebone London in 1909. He subsequently moved to Harlington circa 1930 where he lived with his parents and 9 siblings on Botwell Common Road until he met my grandmother Edna May Sharp. Once they were married in 1940, they lived on High Street, Harlington - now Shepiston Lane - with my mum who came along in 1945.
Together with his younger brother John Dennis Collier, my grandad ran the local forge on Harlington high street where they made and supplied garden furniture and tools. The Forge was a proper family-run local business with my grandad and uncle welding wrought iron into decorative garden fencing, gates, furniture and tools and my gran working in the office. My mum and her cousins would even come in and help out as apprentices.
The brothers ran The Forge together until my great uncle John tragically passed away aged just 42. My gran and grandad continued running the business until they eventually decided to shut up shop for good in the 1970s. The Forge played a vital role in the village and served the community for generations. Firstly, as a forge and farriers, then as a garden supplier and subsequently a second-hand car dealership, and eventually a taxi rank. It is rumoured that in its early years Dick Turpin would take his horse there during his famous speedy 24-hour dashes between London to York along the Bath Road. Unfortunately, the forge is no more, but true to its calling, still serves the local community of Harlington as in recent years it was demolished to make way for housing and in its place, a residential street aptly named 'Forge Close'.
My gran was born and raised in one of the Lansdowne Cottages on Brickfield Lane and that is where my mum also spent most of her childhood. Every day, my mum would walk with my gran from Shepiston Lane, passing St Peter's and St Pauls Church and along the High Street to Brickfield Lane where she would spend the day playing with her friends in the REC, the playground at the end of the lane (which remains to this day).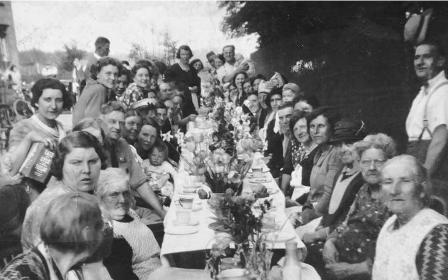 My mum vividly remembers, and from time to time fondly talks about, the lovely community spirit that was very present on the street. We were always in and out of each other's homes. We would just leave our doors unlocked and people would pop in and out. When things got tough, we all pulled together and helped each other out. There was no welfare state back then.
My great gran, Jane Elizabeth Sharp (née Howard) was infamous in the area. I have had the privilege of speaking with a few of the Brickfield Lane residents who lived there pre 1970, before the cottages that made up the street were demolished for more modern housing. They all describe my great gran as a force to be reckoned with. "Such a lovely lady but you wouldn't want to cross her!"
Her husband, my great Grandad, Edward Sharp knew the area very well as he was born and raised in Harlington. He worked at the Hayes Nestlé factory for more than 29 years as a cocoa press operator. He was also a soldier and fought in WW1. He sadly passed away in 1942, aged 56. The Union flag that was draped over his coffin was a fitting tribute to his love for his country and the bravery he showed while fighting for the freedom I, his great grandson, enjoys today. He was clearly a doting father and was sorely missed by his family as demonstrated by the loving tributes they posted in the local paper in the years following his death.
My older brothers and sister always loved visiting Harlington to stay at gran and grandad's house. They look back with such fond memories. My sister reminisces and tells me "I remember things like Nanny teaching me how to make a tent in the garden with a sheet, making cakes together and of course she always let me lick the bowl clean. I remember when granddad ever dropped cigarette ash on the floor, he'd rub it in before nanny saw and say it kept the moths away!"
"Nanny made the best roast dinners in the world and the ultimate best gravy. I used to watch her make it she was a great cook. I hated gravy after that because no one could match nanny's gravy. She used to make me beef dripping sandwiches with salt on. I loved it. And rhubarb with a bowl of sugar. I used to love having baths round theirs because she'd always put bubble bath in and was so careful to make the temperature right. It used to feel like a treat. She'd let me play with mum's toys from when she was a child. All the normal stuff really. She taught me how to make a bed properly. With boxed corners and everything. If it was worth doing, she'd say - it was worth doing properly."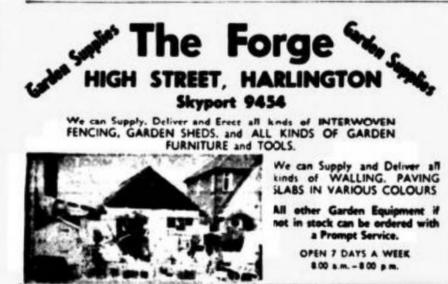 My grandad sadly passed away in 1986 just a few months before I was born, so regretfully, I never got to meet him. But in a way, it was almost like the passing of the baton. Through researching the local area, watching old footage and seeing old photos of Harlington, having a meal in my grandad's local pub 'The Western', walking past the church my grandparents got married in and then continuing on to Brickfield Lane and beyond to stand on the site of the old Forge, I feel like I've been walking in my grandparent's footsteps and feel that little bit closer to them. In a strange way, it almost felt like I was right there with them.
I have written this as a tribute to the family I never had the pleasure to meet in the hope of keeping their memory alive. This was a journey of discovery for me as I researched my family history. I hope this might inspire you, the reader, to perhaps trace the footsteps of your own ancestors - who knows what treasures of information you may find along the way?"
Page last updated: 16 Mar 2021