Open House
Open House weekend took place this year on Saturday 19 and Sunday 20 September.
London Open House is the world's largest architecture festival, giving free public access to more than 800 buildings, walks, talks and tours across London.
Venues in Hillingdon that took part this year included:
You can view the virtual tours of the sites and venues or explore the borough using our self-guided heritage walks below.
---
Manor Farm, Ruislip
Located across 22 acres, the site houses a unique collection of buildings, including the Grade II* listed Great Barn dating back to the 13th century.
Virtual tour
Listen to the self-guided audio tour
Find out how Manor Farm was built
---
Situated on 10 acres of parkland in the heart of Eastcote village, this site contains the stables, a timber framed building dating back to the 17th century. Eastcote House Gardens won London in Bloom Park of the Year category in 2014 and 2019.
Virtual tour

Learn to make lavender playdough [437KB]
---
This 144-acre park contains a number of historic relics, including a cobbled stable yard, ha-ha and enclosed courtyard known as The Secret Garden and the medieval St Dunstan's Church and graveyard which is said to be haunted by the ghost of the Grey Lady.​​​​​
Virtual tour
---
The Grade I listed building dates back to 1426 and was built by Winchester College as part of its manor farm. More than 95% of its structural timbers and half of the planking on its walls are original.
Virtual tour
---
Britain's longest 12-inch gauge railway, dating back to 1811.
Virtual tour
---
St Mary the Virgin Church, Harmondsworth
This Grade II listed parish church features a 12th century south arcade and doorway and a 13th century north arcade.
Virtual tour
---
Dating back to 1250, this Grade I listed church features 15th century additions and Victorian restorations.
Virtual tour
---
St Peter and St Paul Church, Harlington
The Grade I listed structure dates back to 1086 with a Norman font and Norman stone arch, which is carved with cats' heads.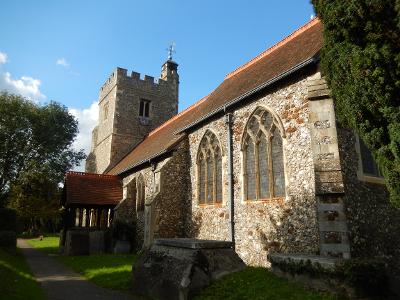 ---
The early 19th century meeting house retains much of its original character, and was a site of Quaker worship from the late 1600s.
Virtual tour
---
The hall is a Grade II listed Georgian mansion, which was originally the home of John Crosier and family is located in the grounds of the Compass Theatre.
Virtual tour
---
War memorials across the borough
Take a self-guided tour of 10 of the war memorials across the borough.

War memorial self guided trail [786KB]
---
Uxbridge Treaty walk
Learn about the Treaty of Uxbridge in this self-guided tour.
---
Hayes walking tour
Explore the historical stories and characters of old Hayes Town through a self-guided tour, starting from Church Green and ending at the Beck Theatre.
Page last updated: 21 Sep 2020