Local characters/people
Read about Hillingdon's past residents and local characters.
---
Amy Johnson
Amy Johnson was born in Hull in 1903. She studied at Sheffield University and then moved to London, where she learned to fly at the Stag Lane Aerodrome, Edgware.

In 1930, she was the first woman to fly solo from England to Australia.
In 1931, she set the record for flying to Japan via Moscow.
The following year, she married the pilot Jim Mollison, who had proposed during a flight after only knowing her for 8 hours. They were married in July 1932. Amy then broke her new husband's record for a solo flight from South Africa to London. The Mollisons made record-breaking flights to America and India.
In 1930, the actor Henry Mollison - a relative of Jim Mollison - had moved into 69 The Green, West Drayton with his wife (and actress) Jane Welsh. Amy and Jim visited them there many times until Henry and Jane divorced and moved away in 1935. Amy and Jim divorced themselves in 1938.
In 1940. Amy joined the Air Transport Auxiliary, flying Royal Air Force planes around the country. She died in January 1941 when her plane crashed into the Thames estuary.
---
Ellen Terry and Edward Gordon Craig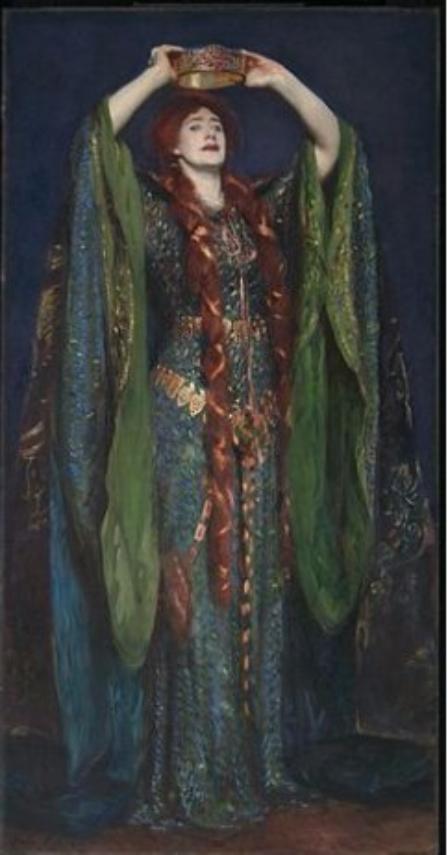 Ellen Terry (1847 to 1928) was born into an acting family and began performing on stage as a young child.
Aged just 16, she married the artist George Frederick Watts but they separated after less than a year and she returned to the stage. She then had a relationship with the architect Edward W Godwin, by whom she had 2 children - Edith Craig, born in 1869, and Edward Gordon Craig, born in 1872.
Following her divorce from George Watts in 1877, she married an actor, Charles Kelly. They soon separated and he died in 1885.
She was reputed to have had a number of affairs, notably with Sir Henry Irving in whose company she acted from 1878 to 1902.
Her final marriage was in 1906 to an American actor, James Carew - 30 years her junior. This marriage also did not last but they remained friends until her death.
On joining Sir Henry Irving's company, Ellen Terry became the leading Shakespearean actress in Britain. Her most celebrated role was as Lady Macbeth (as illustrated by John Singer Sargent's 1889 painting).
In 1887, while passing through Uxbridge, she saw a small cottage at the edge of the town and decided to rent it. This was the Brewery Tap for the nearby Colne Brewery. Throughout her tenancy, one room was still reserved for selling beer, although she is reputed to have allowed the beer to go off to discourage drinkers. She renamed the cottage the Audrey Arms, after her dresser, and spent many weekends there, entertaining many famous actors and artists.
In 1893, she transferred the lease to her son, Edward Gordon Craig (1872 to 1966), who was recently married. He lived there until 1895 and his eldest daughter was born in the cottage.
He too was an actor and became a very famous stage designer.
His first theatrical production was in December 1893 at the Uxbridge Town Hall - a performance of Alfred de Musset's No Trifling with Love.
Ellen Terry finally retired from the stage in 1920 and from films in 1922. She spent her last years at Smallhythe Place in Kent - a house she had bought in 1899.
---
George Orwell

George Orwell (1903 to 1950) was a British journalist and author, who wrote two of the most famous novels of the 20th century 'Animal Farm' and 'Nineteen Eighty-Four'.
In 1932, Eric Blair was just starting his career as the writer, 'George Orwell' - a name inspired by the river Orwell in Suffolk.
He worked on Down and out in Paris and London and also found time to write a play for the boys at The Hawthorns School, Hayes, where he was a teacher. The school has gone but the Fountain House Hotel stands on the site.
In 1933, Orwell moved to Frays College, Uxbridge. One afternoon, whilst out for a ride on his motorcycle, he was caught in a downpour of rain. Without protective clothing, he was soon soaking wet. Pneumonia followed. He was treated in Uxbridge Cottage Hospital. When he left there to convalesce in Southwold, Suffolk, he did not return to this part of London.
---
Leslie Freeman

Originally a solicitor, Councillor Leslie Freeman OBE CC moved to Ruislip with his family in 1947 and dedicated the rest of his life to representing the people of Ruislip in local government.
In 1940, he joined the RAF to help in the war effort, and fate meant he was eventually stationed in Eastcote, which is why his family moved to the area. His first home was in Marlborough Avenue, Ruislip, (1945 to 1946) and eventually he and his family settled down in Northwood by 1947.
Councillor Freeman won the 1948 elections and entered the legal office. Within a short period of time, the appreciation of his hard work and diligence as a councillor meant from 1953 to 1964 Councillor Freeman was the Chairman of the Ruislip-Northwood Urban District Council (UDC) for more than a decade.
Not only was Councillor Freeman part of the committee that built the crematorium in Ruislip, he also dedicated his years as councillor to raise money for 10 special houses, which were equipped for disabled veterans in Park Avenue and are still in existence today.
In the 60 years of its existence, the UDC was served by 32 chairmen. The very last meeting of the Ruislip-Northwood UDC under its chairman, Councillor Leslie Freeman OBE CC, took place on Monday 29 March 1965 before it was finally incorporated into the London Borough of Hillingdon.
Nonetheless, Councillor Freeman continued to work hard for his community and became the chairman of the Greater London Council from 1969 to 1970. He was a well-respected and admirable figure in Hillingdon - so much so that his legacy continues on till the present day.
---
Michael Anderson

Michael Anderson, film director, died on 25 April 2018, aged 98. He directed several famous films, including Around the World in Eighty Days (1956) and sci-fi classic Logan's Run (1976). Our historic local directories show that he lived in Vine Grove, Hillingdon in 1957 and 1958.
Probably his best-remembered film, The Dambusters (1955) commemorated the British wartime attacks on strategic German dams on 16 and 17 May 1943 - using the bouncing bomb invented by Dr (later Sir) Barnes Wallis.
In 1957, Michael released The Yangtse Incident, which told the true story of a British ship, the HMS Amethyst, caught up in the Chinese Civil War in 1949. It starred Richard Todd as Lt Commander Kerans, and was filmed on location in Suffolk.
On 7 October, the film had a special performance at the Regal Cinema, Uxbridge, when the Mayor and Corporation of Uxbridge were invited. Staffing a stall at the event were members of the Ruislip, Northwood and Ickenham Sea Cadet Corps.
---
Maud Ireland Button
Maud Button was born in Uxbridge in 1878.
She became a prolific artist between 1918 and 1921, when she exhibited a selection of her oil paintings in her studio from 14 to 23 March 1918.
Maud mostly painted the old yards and gateways in the centre of the town. She was a member of the executive committee of the Women's International Art Club.

She exhibited some of her work at the Grafton Galleries in March 1915. This 'Anglo-Belgian Exhibition' was opened by princess Clementine of Belgium and the entrance money was divided between the Queen's Work for Women Fund and the Belgian Relief Fund. She exhibited 6 pictures there and one was bought by Queen Alexandra.
In 1921, Maud suffered sunstroke while on a painting tour in the Netherlands. Afterwards she suffered from mental illness and spent many years in a nursing home until her death in 1962.
Her father came to Uxbridge as a young man to work for a high street grocer called George Hetherington. He was taken into partnership and, when George Hetherington died in 1873, her father Alfred took his son Howard into the business.
In 1899, the business became Alfred Button's Sons. Alfred Button is noted as correspondent on a letter from Providence Congregational Church, Uxbridge, 1897; he was possibly a church officer. Maud's brother was Sir Howard Button, founder of the Budgen supermarket chain.
View our catalogue of some of Maud's paintings
---
Robert Redman

Bob Redman was a famous Uxbridge character of the 18th and early 19th century.
He was known for his strength, courage (or foolhardiness) and odd behaviour. He worked as a bricklayer but amused himself with stunts, such as wrestling a bull or riding one from Cranford to Hatton. Once, he jumped off the church tower into 7 feet of water. Fond of his gin, he would sometimes swallow the glass as well. He was also said to have swallowed various coins and even a clay pipe full of smouldering tobacco.
According to his own account, he once encountered the Devil in the Lynch, Uxbridge. This man in black seized him by the collar and hauled him to Uxbridge Moor, dragging him through hedges, ditches and the river until dawn. After this, Bob was a reformed character and gave up swearing.
He lived to be a hale and hearty 90-year-old and died in Uxbridge workhouse.
---
Roger Crab

The Hermit of Ickenham was born in Buckinghamshire around 1621.
As a young man, he became a strict vegetarian.
He fought for Parliament in the Civil War, suffering a severe head wound. After the war, he opened a haberdashery in Chesham. Following a mystical experience, he sold his shop and gave all his money to the poor.
Moving to Ickenham, he began an ascetic life, dressing in sack cloth and eating vegetables, dock leaves and grass. He said he could live on 3 farthings a week.
Crab was an astrologer and prophet. His unorthodox views led the vicar of Uxbridge to denounce him as a witch. He spent some time in Clerkenwell gaol but continued on his maverick path.
He died in Bethnal Green in 1680 and was buried at Stepney.
---
T E Lawrence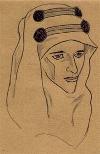 T E Lawrence (1888 to 1935) was a British scholar, writer and soldier who mobilised the Arab Revolt in World War One and became famous as 'Lawrence of Arabia'.
In the 1920s, 'Lawrence of Arabia' was a household name. His exploits as an intelligence officer and saboteur in the desert had been seized upon by the media. He was a glamorous figure, but Lawrence was a complex man. Weary of fame, he decided to enlist as an ordinary man in the armed forces.
In 1922, using the name, John Hume Ross, he underwent basic training at RAF Uxbridge. He described the experience in a book called The Mint. Lawrence was older than the other recruits and found the physical exercise and arms drill very tiring. He also resented the deliberate humiliations meted out by the NCOs.
After 10 weeks, Lawrence was posted to Farnborough for a photography course.
When the Daily Express revealed his identity, he had to leave the RAF. However, he enlisted again - this time, using the name Shaw (borrowed from his friend George Bernard Shaw).
He subsequently served in the Tank Corps and the RAF, even reappearing briefly at Uxbridge in 1925.
---
William Hawke

Hawke was the second man to be called the Flying Highwayman - a nickname earned by fast riding and daring leaps over turnpike gates.
Born in Uxbridge in 1750, Hawke lived there for part of his criminal career and often said he would never rob an Uxbridge man.
Tales were told about his gentlemanly behaviour and Robin-Hood-like generosity to the needy.
His crimes were punished by transportation to America, where he was sold as a slave. He escaped and made his way back to England, where he resumed his robberies across a wide area of London.
Captured a second time, he bribed the gaoler to let him go. More robberies followed. Eventually, he was arrested by the Bow Street Runner, Nicholas Bond. This time, there was no escape. He went to the gallows in 1774 with a flower in his lapel. A large crowd, including the public hangman, attended his funeral at Uxbridge.
---
William Wilberforce
William Wilberforce (1759 to 1833) was a leading campaigner in Parliament for the abolition of slavery.
From 1824 to 1826, he lived at The Chestnuts, Honeycroft Hill, Uxbridge.
He retired from Parliament due to ill health and lived in the house while he was waiting for a house in Mill Hill to be ready. On the day he officially retired from Parliament, he recorded in his diary that he "staid quietly at Uxbridge, spending the time very pleasantly".
Page last updated: 18 May 2023